JOIN US TO HELP SAVE THE MONARCHS
Monarchs are Facing a Severe Population Decline
Famous for their seasonal migration, millions of monarchs used to travel almost 3,000 miles from the United States and Canada to Mexico for the winter. According to Xerces Society, an estimated 4.5 million flew in this migration in the 1980s. But today, their numbers in Mexico have drastically declined. For the Western Monarchs in California, it is even more dire. By 2020, the population had dropped to less than 0.01% of the historic size, with volunteers counting under 2,000 monarchs.
Causes of the massive monarch decline include habitat loss, the increasing use of pesticides, climate change, and extreme weather events. In particular for monarchs, the loss of milkweed has been devastating for the population because milkweed is the only plant that a monarch will lay its eggs on and is the only source of food for monarch caterpillars.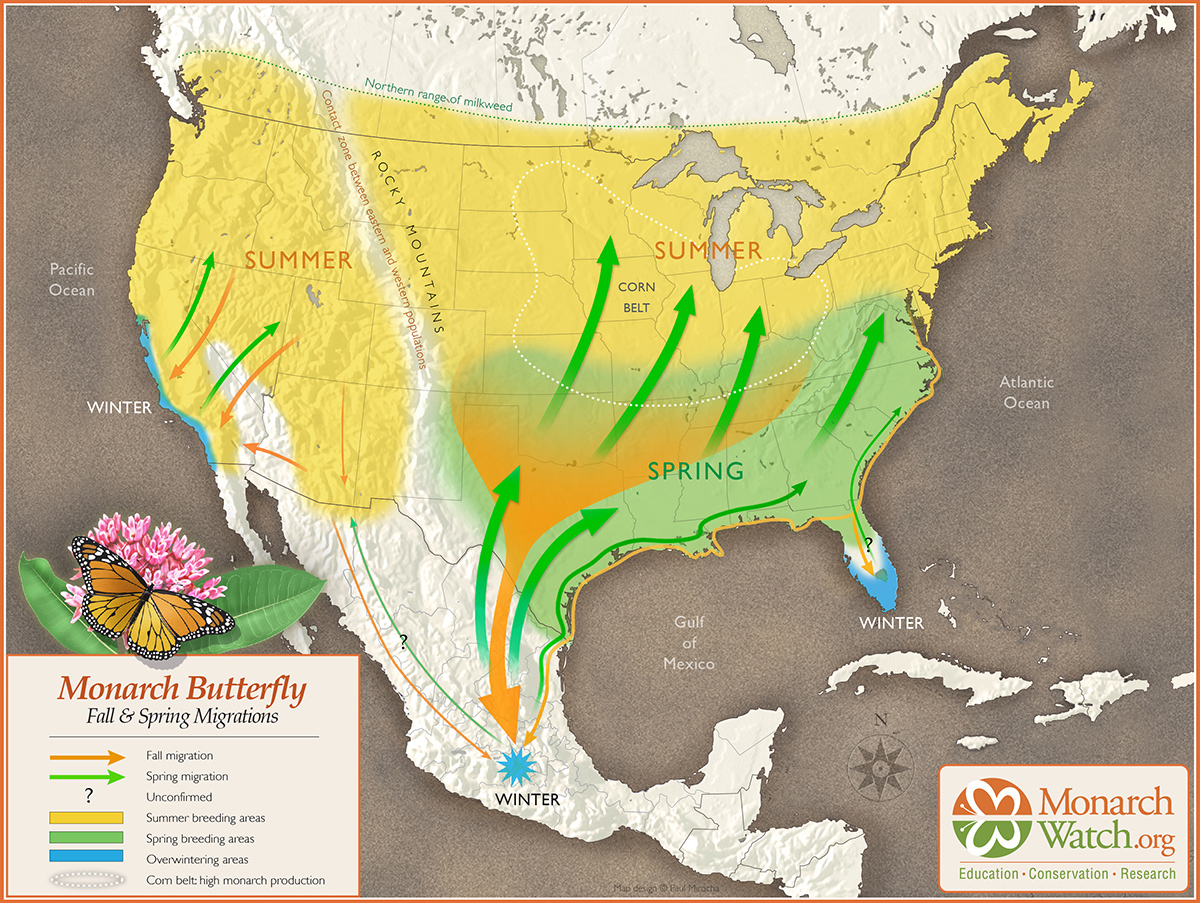 Monarchs, Along With Other Butterflies and Pollinators, Are Essential To Our Ecosystem
Pollinators spread pollen from flower to flower, which is necessary for plants to become fertilized and produce fruits, seeds, and young plants. The National Pollinator Garden Network estimates that butterflies, bees, birds, bats, beetles, and other small mammals that pollinate plants are responsible for bringing us 1 out of every 3 bites of food we eat each day.
The Monarch is an Ambassador for All Pollinators
Because monarchs are so well known and their decline is easy to measure, they are leading indicators of what's ahead for other pollinators. They need the same habitats as many other pollinators so if the population of monarchs is declining then it's likely that many other pollinator species are already or will soon face similar declines.

HELP THE MONARCHS BY PLANTING A BUTTERFLY GARDEN
Increasing the number of host plants as well as nectar and pollen sources by providing more flowering plants and trees will help improve the health and numbers of monarchs and other pollinators. You can make a direct impact by planting a butterfly garden!
Guide to Planting a Butterfly Garden
THE BUTTERFLY WONDERLAND® FOUNDATION SUPPORTS THE "GOT MILKWEED?" INITIATIVE
The Butterfly Wonderland® Foundation is committed in its partnership with Butterfly Wonderland to provide an educational space with deep-rooted conservation initiatives. Our efforts to raise awareness about the rapid decline of the majestic monarch through our "Got Milkweed?" initiative is one of the many ways we seek to advance our mission and shared vision.
Please join our efforts in conservation awareness of the majestic monarch butterfly. Plant milkweed. Plant a butterfly garden. Get involved. Adopt-a-butterfly. Give to the Foundation.
All gifts support the mission and programs of the Butterfly Wonderland Foundation, a 501(c)(3) organization dedicated to conservation-based education and initiatives.
WANT MORE INFORMATION?
HERE ARE SOME ADDITIONAL RESOURCES