BUGtober at Butterfly Wonderland
'BUGtober' 1st– 31st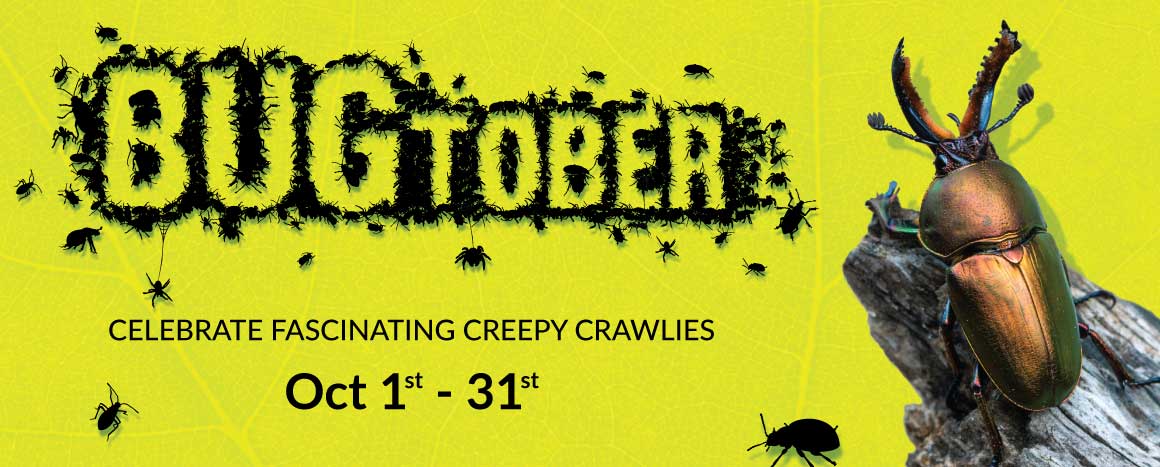 Butterfly Wonderland is BUG CRAZY during the month of BUGtober! Celebrate the school fall break season with fascinating creepy crawlies like large tropical beetles, giant walking sticks, exotic mantids, and more! You might even get to touch one or EAT ONE!
Activities all month long include:
Daily Bug talks where you can touch bugs, hear fun facts and information from one of our bug specialists, and even a chance to eat bugs!
A nursery featuring the cutest bugs of them all, the Baby Bugs!
Special bug-themed Critters & Crafts, Face Painting, and a Coloring Contest
Movie Time in the courtyard showing "A Bug's Life"
It all culminates in the biggest bug bash of the year, the 3rd Annual BugFest, on Sunday, Nov 3rd!
Click/Tap here to see full list of BUGtober events to start planning your Fall Break visit!
NEW! Special Guided Tour at Butterfly Wonderland
Every Friday (Space is limited!)
1-3 pm

Take a special Guided Tour around Butterfly Wonderland. The Tour includes a guide throughout your whole experience, a butterfly release, behind the scenes visit inside the Rainforest Reptile Lab, interactive bug talks (including a chance to eat bugs!), viewing of the 3D movie, and opportunities to engage with an expert in the chrysalis gallery and conservatory to discuss topics such as butterfly behaviors and the role of bees as pollinators. Tickets: $8 for adults/$5 for children (ages 3-12), in addition to General Admission ticket. Tours are limited to 12 people and are held every Friday from 1-3pm.
BUGtober Coloring Contest
Oct. 1 thru Oct. 31 – Final winners announced at BugFest, Sunday, Nov. 3

Butterfly Wonderland invites your child (ages 4 thru 16) to participate in a fun Coloring Contest to help us kick off BUGtober at Butterfly Wonderland. Let your child work their artistic magic – four coloring pages below to choose from. One entry per child. The bug can be colored any way you like – crayons, colored pencils or markers. Entries will be judged on creativity/coloring skill. Must include Parent name and phone number on back of coloring sheet. We will announce the grand prize winner at BugFest, Sunday, Nov. 3 at Noon.
Beetle-mania! Exploring the World of Coleoptera
Saturday, 'BUGtober' 19
11 am to 1 pm

Meet Katherine Arguez (Mack), a PhD. student at Arizona State University, who will share her passion of beetles and tell us some amazing facts about Coleoptera. She will bring some of her amazing friends and some displayed specimens as well. She has done extensive field research on beetles across the South Eastern United States, Mexico and Cuba. Come meet some amazing beetles up close. FREE with admission.
Waking Up with Butterflies with Professional Photographer Adam Rodriguez
Saturday, 'BUGtober' 26
8:30-9:30am; check in 8:15am

Guests are invited to enjoy a quiet hour photographing the butterflies and reptiles as they awake or catch that perfect photo of your favorite reptile or butterfly. Get helpful information on better shots from photographer Adam Rodriguez. Ages 18 & up; FREE for members; $30 (general public – Includes Admission.) Pre-registration is required; call (480) 800-3000, ext. 210 to reserve.
Bug Fest– OdySea in the Desert Courtyard
Sunday, Nov. 3 | 10 am to 2 pm

Enjoy children's crafts, cockroach races, and even edible insects as you learn about the world of insects. The Butterfly Wonderland Foundation presents this free festival in appreciation of all the many-legged creatures that inhabit our planet. Meet real live bugs up close, watch cockroach races, try edible bugs, insect petting zoo, children's craft activities and more! Recommended for all ages!
Butterfly Origami Class (For Ages 7 & up)
Saturday, Nov. 9 | 10-11am

Come learn from an Origami instructor Jasmine Tawfik how to make beautiful origami butterflies and other critters. Cost: $10 for child. Free for members. Class is limited to 15. Pre-registration required by Nov. 8. Does not include Admission to Butterfly Wonderland; call (480) 800-3000, ext. 210 to reserve.
Travel with Butterfly Wonderland to Mexico!
February 21 – 27, 2020

Mark your calendar for an amazing trip with Butterfly Wonderland to visit the Monarch Overwintering Sites in Mexico Feb. 21-27, 2020. This is a bucket list kind of trip. See millions of Monarchs in the oyamel forest trees in Mexico, visit beautiful cathedrals in Mexico City, and tour beautiful botanical gardens. Click on this link for more details. For more information, contact Adriane Grimaldi at adriane@butterflywonderland.com.
Kids Time: Critters & Crafts
Thursday, 'BUGtober' 17
4-5pm
Especially for preschool thru 3rd grade, as we celebrate BUGtober, get an up close and personal look at one of our many bugs we have. Education Specialist Vicki Smith will also have a fun and educational storytime and craft activity. Meet in Multi-Purpose Room. FREE with admission; attendees are eligible for 10% off a Butterfly Wonderland annual pass to enjoy this fun activity time again and again!
Butterfly Brush Strokes at Night
Friday, 'BUGtober' 18
6pm-8:30pm
Plan a creative night out with friends or date at Butterfly Wonderland with unique Painting class featuring artist Michael Danebread. Guests will learn to paint a beautiful butterfly. All paint supplies provided. Limited to 25 people. $25/general public; free for members. Light refreshments served. Pre-registration required; RSVP by Oct.17. Call (480) 800-3000, ext. 210 to reserve
Butterfly Brushstrokes – Painting Class FOR CHILDREN
Saturday, 'BUGtober' 19
10am-12pm
Children can learn some basic art skills while painting a beautiful butterfly by local artist, Alex Simonet. Space limited to 15. Geared for ages 8 to 17; $15/general public; $20/adults. Free for members.  Class does not include Admission to Butterfly Wonderland. Pre-registration required; RSVP by Oct. 18. Call (480) 800-3000, ext. 210 to reserve.
Concert in the Conservatory
Saturday, 'BUGtober' 19
11am-3pm
Every 3rd Saturday, elevate the experience in our Conservatory with live musical performance by Aaron White. FREE with admission.
Celebrate BUGtober!
'BUGtober' 26-27
Come dressed as your favorite bug (ages 4 and under) and receive free admission.